WHAT IS BIRÒ?
The smallest closed four-wheel electric vehicle for two people.
A vehicle that fits people's needs on daily commuting through the city, with ease of travel, improvement of air quality, saving precious time to move and park safely. In terms of homologation, Birò can be compared to a 50cc scooter with a maximum speed of 45km/h and to a 125cc scooter with a maximum speed of 60km/h (depending on the
model). It can be driven with a license by people that turned 14. Since Birò is an electric vehicle, no road tax is applied for the first 5 years, afterwards a minimum rate is applied. In some countries, the road tax exemption is a lifetime.
OUR HISTORY
Estrima was founded in Pordenone in 2008 with the aim of creating, manufacturing and distributing Birò, a 4- wheel electric vehicle, which can meet the growing demand of the urban population, focused on environmental problems and time optimisation. To date, there are more than 3,500 Birò on the road.
THE FOUNDER: MATTEO MAESTRI
Birò project was born from the innovative and unconventional ideas of the creative vision of Matteo Maestri, founder of the brand.
The third generation of a Friulian family, known for the production of cabins for earth-moving machinery. Matteo joined the family business after graduating in Economics. Thanks to the know-how and expertise acquired during this experience, Matteo founded Estrima, a name that comes from the anagram of his surname Maestri. Matteo wanted to improve the quality of life of people who live in the city, using an electric vehicles. This is how Birò was born: a tiny, fun and safe vehicle to drive.
In 2020 Maestri was joined by two new partners who brought great managerial and entrepreneurial experience:
Ludovico Maggiore, with an outstanding background in vehicle rental and mobility; Ermes Fornasier, with remarkable skill in management and development of growing companies in various sectors, especially in the automotive one.
The mission is leading the company to the world of customer-facing services and triggering a very important expansion.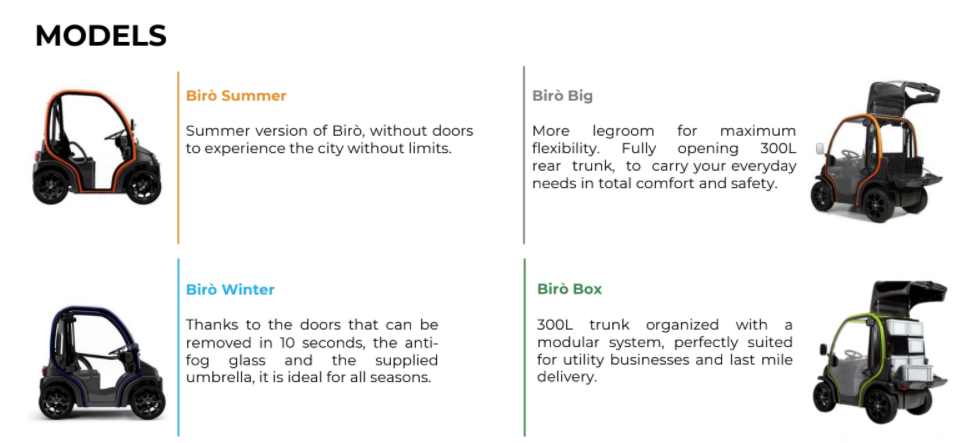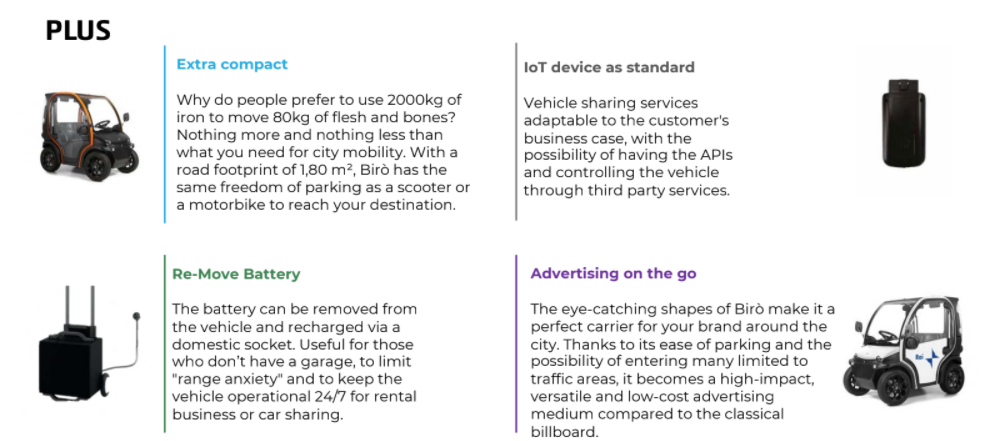 ADVANTAGES of having a Birò car.
Birò provides many advantages, thanks to its compact size:
• You can save stress and time by combining work and free time;
• You can move quickly in city traffic;
• You can have free access to the restricted traffic zones (ZTL) of many cities;
• You can easily park in the scooter lots;
• Full safety: a non-deformable tubular steel body protects
the driver and passenger. It is also equipped with four
disc brakes.
STRENGTHS of the Birò company.
• Estrima is the first company to introduce a four-wheel electric city vehicle to the market;
• Estrima is the first company that manufactures a vehicle with a 345° visibility drive;
• For the first time, a four-wheel vehicle uses two rear brushless motors, that reduce consumption and maintenance, instead of a traditional electric motor;
• Sustainable Development Award, 2012;
• Green Innovation Excellence, 2012;
• ANGI Award (National Association of Young Innovators), 2019;
• Finalist of the PRAE (Plastic Recycling Award Europe), 2020.
RE-MOVE BATTERY
In 2013, Estrima introduced Re-Move, a system which allows the battery to be removed. This system revolutionized the world of electric transport on wheels.                                                                                                               Thanks to this innovative system, the battery can be easily removed and transported with a simple trolley, so that you can charge it easily everywhere.
Re-Move is especially useful for people who live in the city without a garage, because it is possible to bring home the battery.
Re-Move also uses the traditional lithium battery, typical of Birò, and makes a total change to the space for the battery, designed for simple removal.
The Re-Move battery gives Birò a range up to 55km and it completely recharges in 4 hours, using a regular electrical socket and absorbing just 1,5kW. Instead, the fixed battery gives Birò a range up to 100 km.